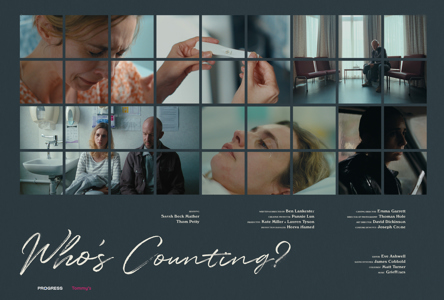 ---
Who's Counting?
The Progress Film Company
---
Agency: Mind+Matter
Client: Tommy's

Additional credits: Mind+Matter
When my wife and I experienced two consecutive miscarriages, we decided to channel this experience into something positive with a short film that we hoped could bring about change. I wrote and directed 'Who's Counting?', a 5 minute drama about a couple who have to endure the emotional and physical trauma of successive losses before they can receive support. Developed for over a year, our penny-drop moment was the idea to tell the story backwards, using fragments of this couple's lives told over a multi-year period, and using key moments of our own experiences to ensure complete authenticity in our storytelling.
We self-financed the film through our production studio, The Progress Film Company and brought on board pregnancy charity Tommy's as our partner, as well as healthcare-specialist media agency Mind+Matter to cover press and distribution. For the shoot itself, we assembled a team of passionate filmmakers who all had a personal connection to the subject matter. It was a deeply rewarding experience to see an incredible group of collaborators come together to make something so important to them. Finally we sought out some of London's top post houses, who all came on board for the love of the project and to support the cause. Following a national rollout, the film led to Tommy's 'Record of Loss', where parents who have experienced miscarriage are being encouraged to add their names to the database and be part of the very first attempt to count the number of miscarriages here in the UK.